Weekly Member Coupons
Sign-up for our weekly e-mail newsletter FoodEnews and receive Weekly Member Coupons. Beyond these special coupons, FoodEnews features the latest Co-op recipes, events, specials, sales and more.
Sign Up for FoodEnews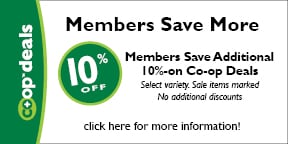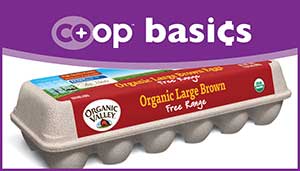 Enough Abundance to Share
Our EATS program was created with a simple premise: everyone deserves to have access to healthy food regardless of income.
Members in good standing (either paid in full or current on equity payments) can submit an application to receive a 15% discount for a period of six months with the option to renew as long as they still qualify.
The discount is valid in both stores and is tied to your membership—you don't carry a special card or show anything to your cashier after you've signed up.
Program Eligibility Requirements
Members who are current in the following program/s are eligible for our EATS discount:
Montana Healthy Kids
SNAP — food stamp benefits (balance must be above $0)
Medicaid
Extra Help through Medicare
Section 8 Housing
Supplemental Security Income (SSI)
Property Tax Assistance Program for low-income Montana seniors (PTAP)
WIC (Women, Infants and Children)
How to Sign Up
Signing up is easy! Simply stop by the Customer Service desk, show your qualifying card (from the programs mentioned above) to a customer service representative and fill out the EATS form. After six months, EATS participants receive an email or phone call reminding them to renew in the store, by e-mail or USPS by the first of the month. Simply print the form from your renewal email and return with a PDF of your qualifying documents. We also accept paper copies through the regular mail. Sorry, no retroactive discounts on purchases made if the discount expires.
Not a Member Yet?
Co-op membership is $35/person/lifetime (no annual dues). While everyone is welcome to shop at the Co-op, membership does have its benefits.
Questions?

We are happy to help! E-mail the Membership department at [email protected].