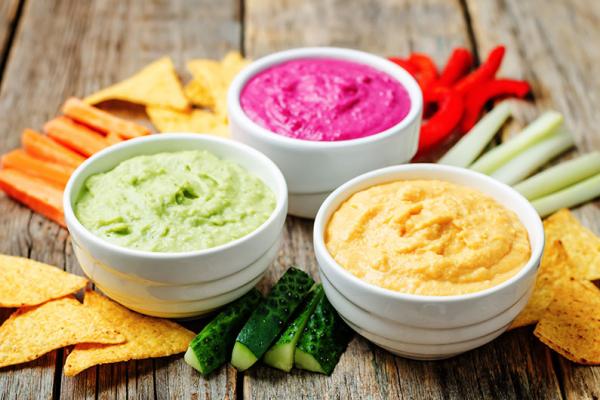 A few years ago I went out on a limb while standing in the Good to Go section and added a weird looking green dip to my cart. It's become a household staple ever since.
The label on this spicy edamame dip declares that it's made from a base of blended tofu with the addition of edamame, jalapeno and other spices. It's tangy, spicy, filling and healthy. More than just a dip, it's something I spread on bagels or onto a tortilla as the base layer to a veggie wrap. It's packed full of protein, from the tofu, and flavor.
The reason I'm raving about this dip is not to drive Co-op spicy edamame dip sales but to explain the revelation I had once I started enjoying it. I came to realize that dip, or spreads if you will, can be a smorgasbord of healthy ingredients. Like a hearty soup full of vegetables, in a healthy dip you hardly realize how much good stuff you are eating.
Hummus, salsa and guacamole are great but here are some other healthy dip/spread ideas (for exact recipes, look online):
Vegetable Dips
Veggies can make a superbly healthy base to a dip and add some creative colors as well, the bright red beet dip, the green-hued edamame dip and the neon orange of a roasted red pepper dip. Here are a few examples but don't stop here. Have a favorite vegetable? Most likely a simple Google search will lead you to a number of dip recipes using that as the base.
Roasted Vegetable Dip: Yes, please. The flavor that comes from roasted vegetables shines in this dip and the addition of tahini holds it together. The vegetables can vary, but the recipe I found is based on eggplant, red onion, red pepper and garlic.
Single Roasted Vegetable Dips: Single out the flavors of one of your favorite vegetables by making them the star of the dip. Some good options are eggplant, for a Greek-inspired baba ganoush, red pepper dip and a roasted beet dip with walnuts, yum!
Artichoke Dips: I'm a sucker for a warm, mayonnaise-filled artichoke dip but there are healthier versions that still use this delightful base. Blend artichokes with kale and garlic for a super healthy and flavorful spread or try this healthy take on a light and crispy spinach artichoke dip, made with Greek yogurt instead of sour cream or mayo.
Protein-Based Dips
Bean Dips: Any bean can make the base for a dip, black, white, red, lentil, garbanzo, you name it, there's a dip for it. For a simple black bean dip, you can throw a can of black beans into the food processor and add some salsa, lime juice, cumin and cilantro for a flavorful, quick combo. Get funky with a basic hummus recipe and add a vegetable to it, such as cooked sweet potato or roasted beets. Try a pretty white bean dip by blending two cans of great northern beans with some lemon juice, garlic, cumin and olive oil.
Tofu Dips: Easily blended in a food processor, think of tofu as the protein punch to any dip and feel free to get creative here. It's a great way to have a hearty base without the dairy. Try blending tofu with the vegetable of your choice, say spinach or avocado, and try adding some favorite spices, perhaps a little sesame or olive oil and voila.
Cheese Dips: Cheese as the base for a dip. More, please. With its already smooth consistency, goat cheese and ricotta both make a great base. Try adding a can of green chilis and some jalapenos for a simple Mexican-inspired hot dip or for a light and refreshing dip, try this one with ricotta, lemon and herbs.