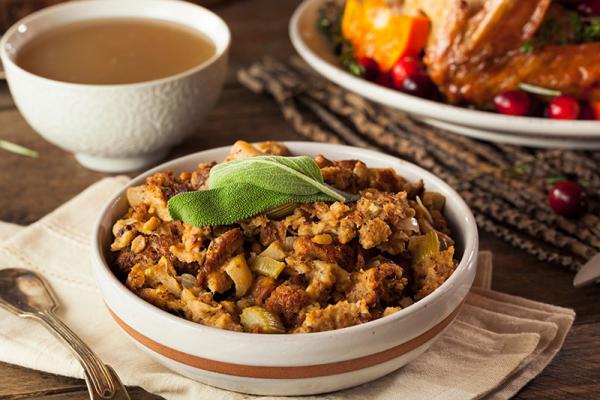 The holidays are fast approaching…time to add an extra notch onto your belt or break out the stretchy post-holiday-meal pants. No matter how healthy a holiday dinner may be, it's hard not to over serve yourself. Most tables, after all, are filled with an assortment of delightful dishes — those from the family archives or new must-haves that have been incorporated into the menu over the years.
And a traditional holiday meal is not complete without good, old stuffing. That flavorful side dish, whether it's made from a box or from scratch, goes hand-in-hand with turkey, or in turkey for that matter. It's often a crowd-pleasing favorite.
Also referred to as dressing, the first reported recipe was found in a Roman cookbook that dates back to the 5th century AD. And it's not limited to poultry; it's used to complement fish, pork, veal and other meats.
Stuffing is also not limited to your typical seasoned bread-based dish. Here are some ways to make the stuffing stand out this holiday season...or any season for that matter.
The Savory
There's something comforting about the savory flavor of traditional stuffing. Here are some easy additions that keeps the familiar essence yet adds a little flair.
Meats: Toss small bits of crumbled or chopped meat into your stuffing, along with complementary flavors, and you will be in carnivorous bliss. Try sausage with either sage, apple, leak or sun-dried tomato; bacon with either chestnuts, mushrooms, caramelized onion, spinach or leeks. Feeling adventurous? Try adding oysters for a salty bite or chorizo for added spice.
Vegetables: Mushrooms are an easy, earthy and delicious addition to stuffing. Switching out leeks or caramelized onion for regular onion can add a simple twist. Spinach or finely shredded kale can be added with a touch of gruyere cheese for added richness. Try kale and roasted garlic or jalapeno and cheddar for something spicy and refreshing.
The Sweet
The addition of fruits, dried or fresh, can add a surprising zip to stuffing and balance the savory ingredients in the recipe and on the plate.
Try throwing one of the following into a traditional stuffing:
apricot
cranberry
apple
fig
pear
cherry
butternut squash
sweet potato
Or try these sweet and savory combinations:
apple and walnut
apple and leek
cranberry, apple and pecans
pear, toasted walnuts and blue cheese
sausage, dried cherry and sage
The Unique
The bread: There are a number of other ways to verge from the norm when it comes to stuffing. Try switching out the bread; instead of the typical white bread chunks, go for sourdough or cornbread mixed with savory elements. For the sweet side, try challah or cinnamon raisin bread with fruity additions.
The base: Want to go bread-free? Try a wild rice or quinoa base in place of bread and throw in any savory or sweet additions to go along.
The shape: Perhaps you're not actually stuffing the stuffing. In that case, you can make the stuffing in muffin tins, a loaf pan or bundt pan and serve it instead of bread.
(Although many of these ingredients can be added to a traditional stuffing recipe, for more detailed recipes, search online.)
Happy holidays!